---
If you appreciate this guide, we accept Donations.
---
Lesen erforderlich
Wähle die entsprechende Seite für deine Version aus der unten folgenden Tabelle. Beachte, dass die "Von" und "Bis"-Felder inklusive sind.
Die Version deines 3DS findest du rechts unten auf dem oberen Bildschirm in den Systemeinstellungen.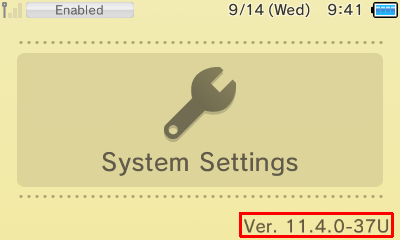 While we believe that custom firmware is safe for online use, there have been online network bans in the past, primarily for cheating and suspicious eShop behavior.
Versionstabelle
The letter and number after the system version (for example, 11.14.0-46U) is not relevant in this version table.
---